Learn about winning Streaming Wars tactics like friction, moats, and loyalty, from the biggest and most successful companies in the world: Netflix, Disney, Apple, and Amazon.
5 – minute read
In the last blog post, I broke down the streaming giants (content) strategies in the Streaming Wars to find out what we could learn. Discussing the current streaming landscape, growth opportunities, and tactics, and highlighted a couple of learnings.
This time I'll provide you with a quick update on the ever-evolving landscape, how streaming giants use moats and friction to grow and keep customers loyal. And we'll discuss a couple of tactical wins.
Related: Streaming Wars – Part 1 – Netflix Content Strategy and more.
Special thanks: Prof. Galloway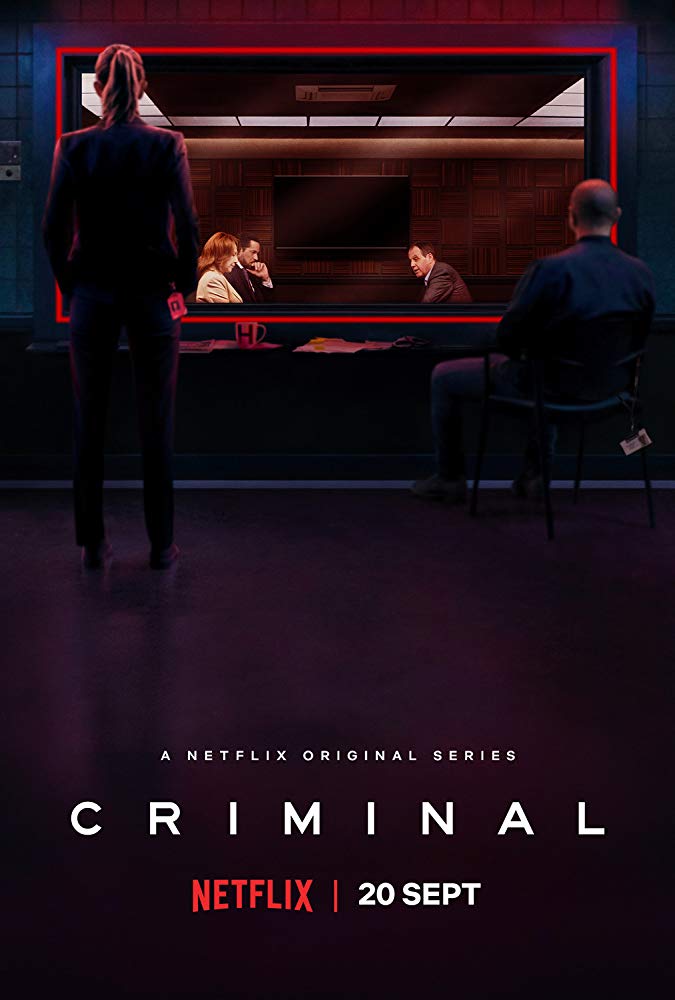 [nectar_dropcap color="#1e83ec"]A[/nectar_dropcap]s you can see in the timeline below, Netflix had unchallenged growth for about ten years untill the Streaming Wars started.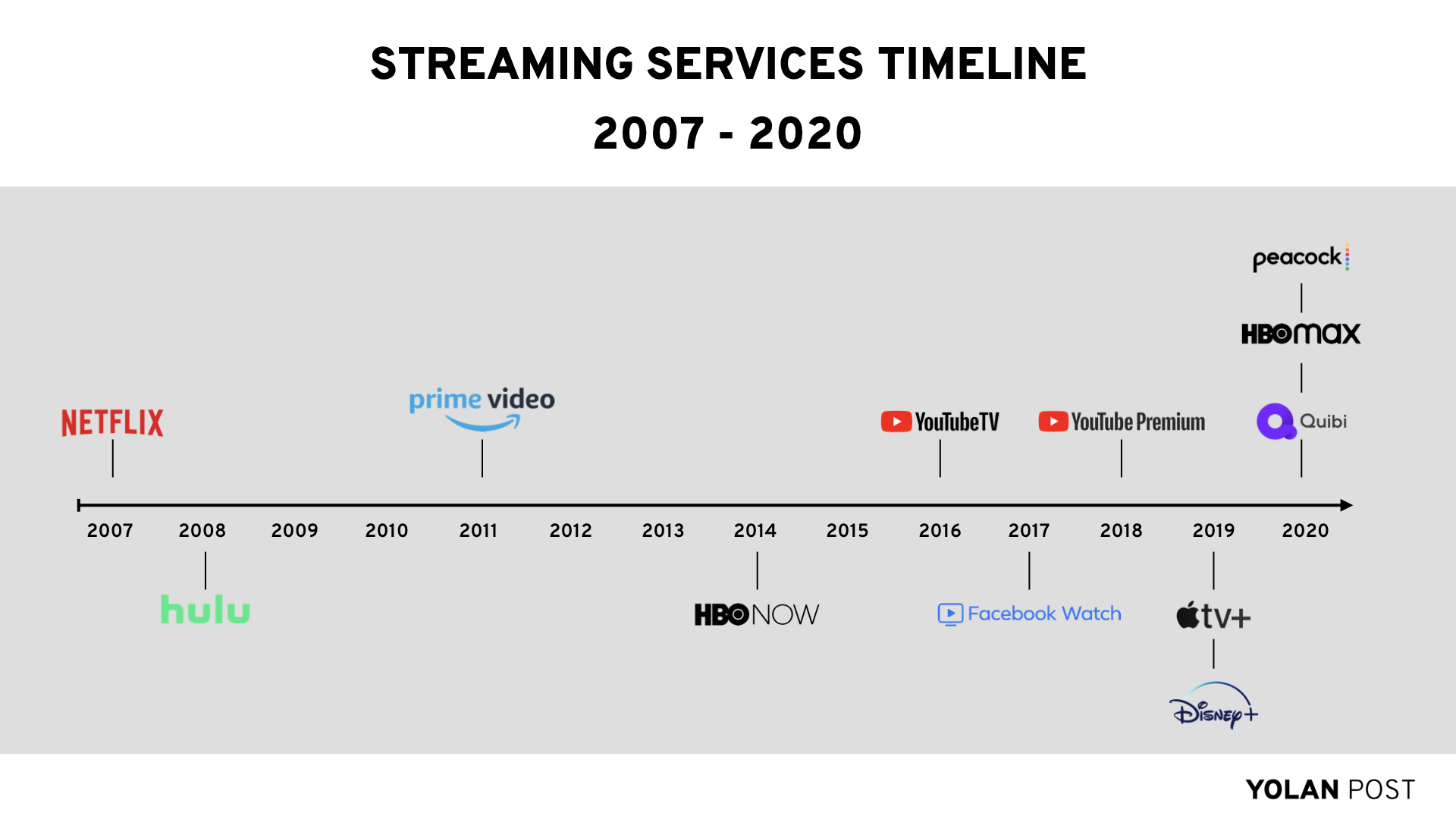 Netflix was rapidly growing its subscriber count until 2019 when it recorded its lowest quarterly subscriber growth numbers in three years and its first US subscriber loss since 2011.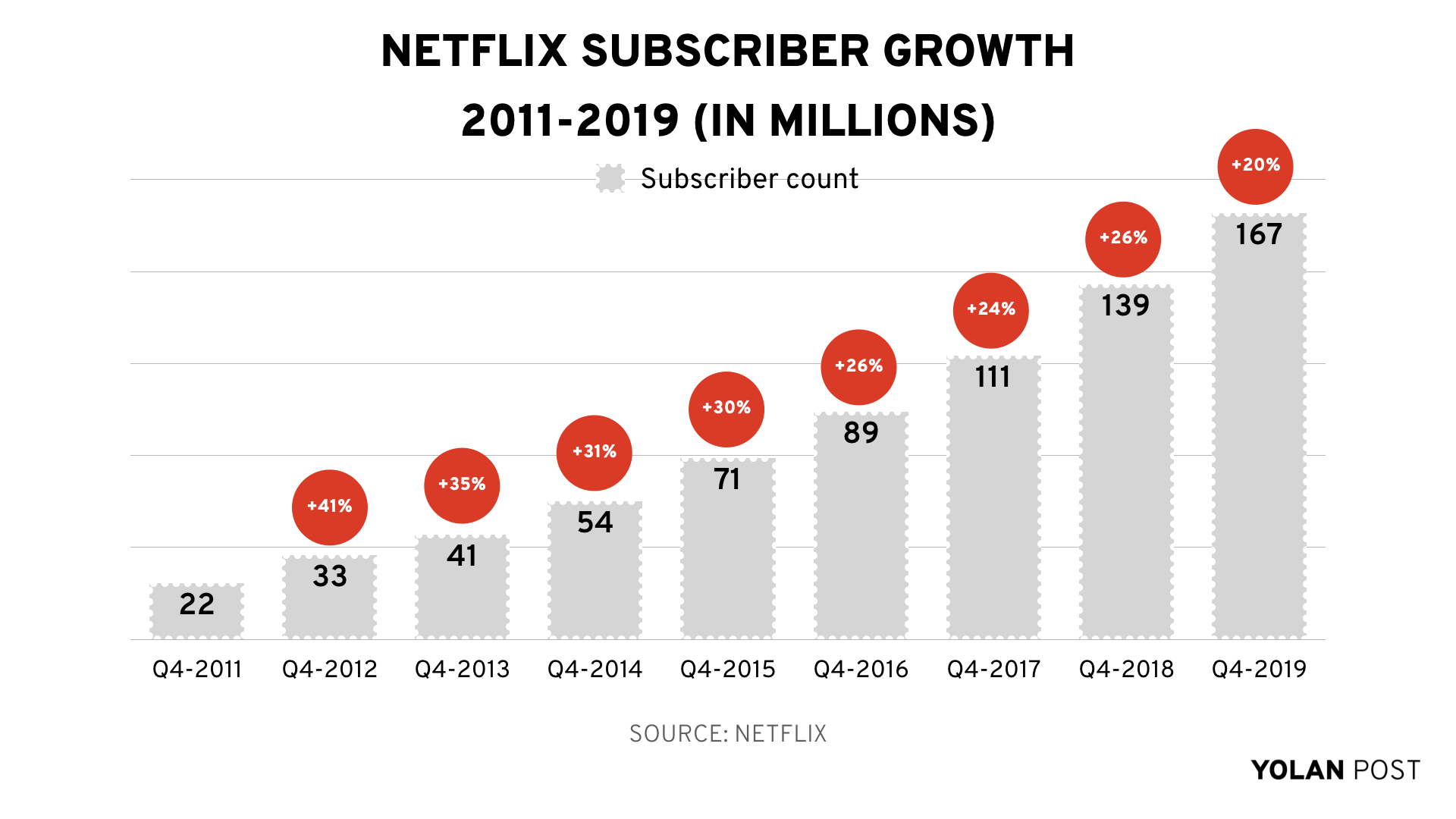 To stay market leader, Netflix must win other territories. And it seems there is much room left to win (in terms of the addressable market):
4 in 10 in Latin America households have a paid Netflix subscription, in EMEA that's 1,5 per 10 households and in APAC just 1 in 10. Relevant and local content is vital for Netflix to reach that goal. And enough PR and advertising spend, of course.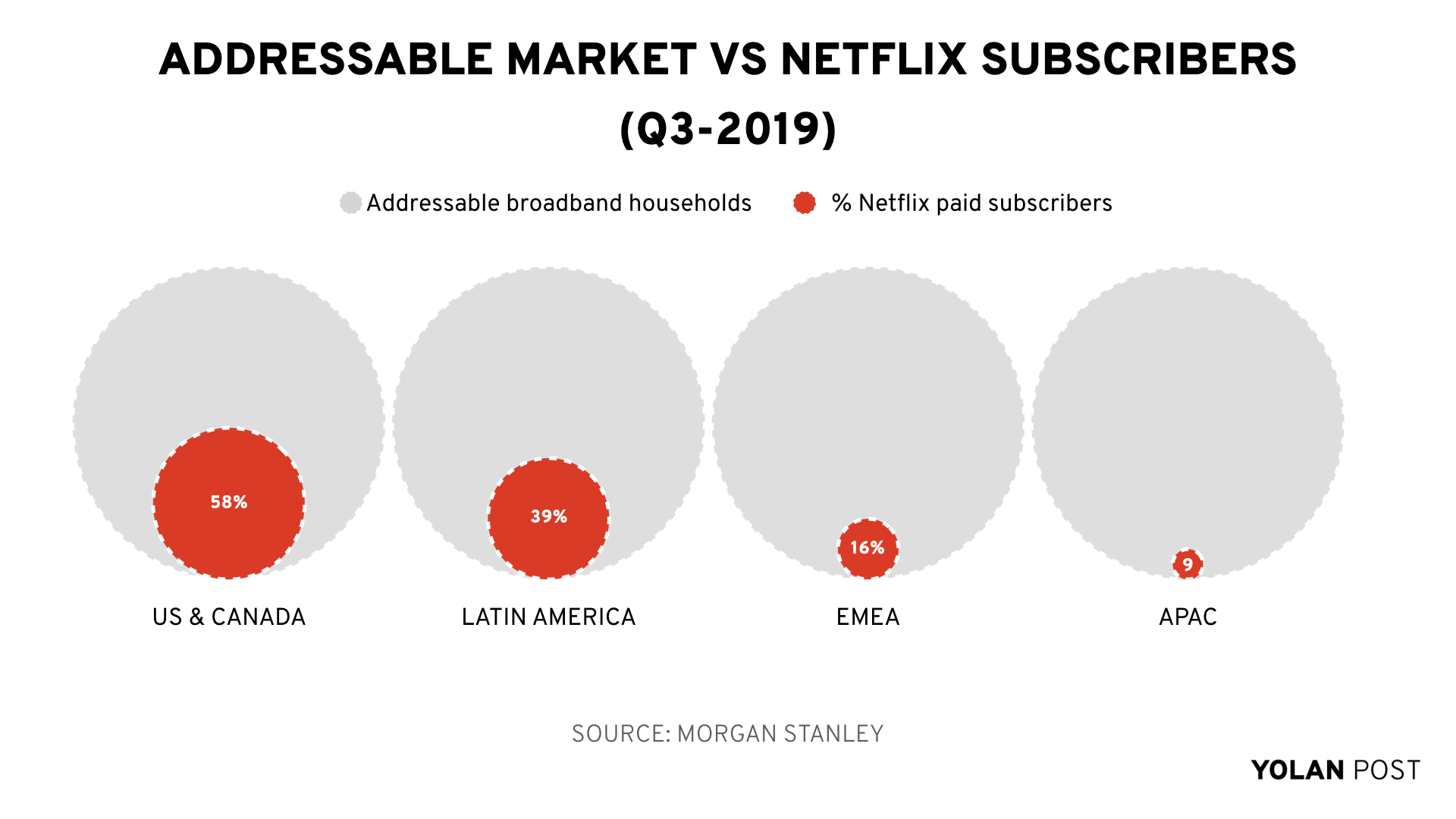 But Disney+ is killing it.
With the Mouse's new partnerships with Verizon (US), Sky (UK&Ireland), Canal Plus (France), leveraging their Hotstar asset, and being a native app on Android TV, Apple TV, Amazon Fire TV, LG Smart TV's and Roku devices. Disney has made a BIG push into strengthening its distribution.
"Disney has the potential to reach its goal of 60 million to 90 million global subscribers faster than the five-year outlook it provided last year. As it already has almost 30 million subs after a successful North American Launch." says the Motley Fool.
In Q4-2019, Disney+ was the most downloaded app on the App Store and Google Play by far.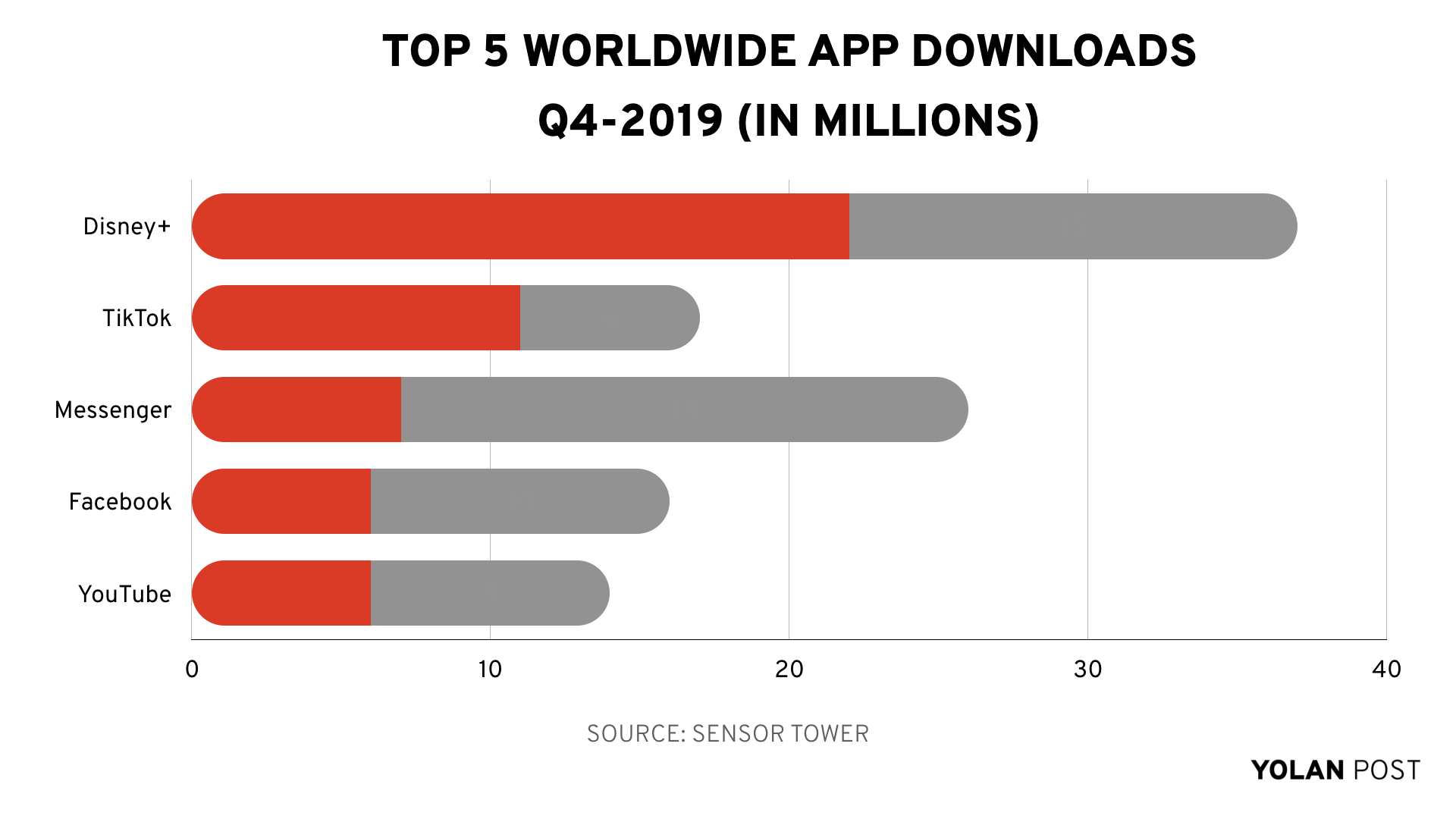 Disney isn't the only problem Netflix has; the competition is increasing: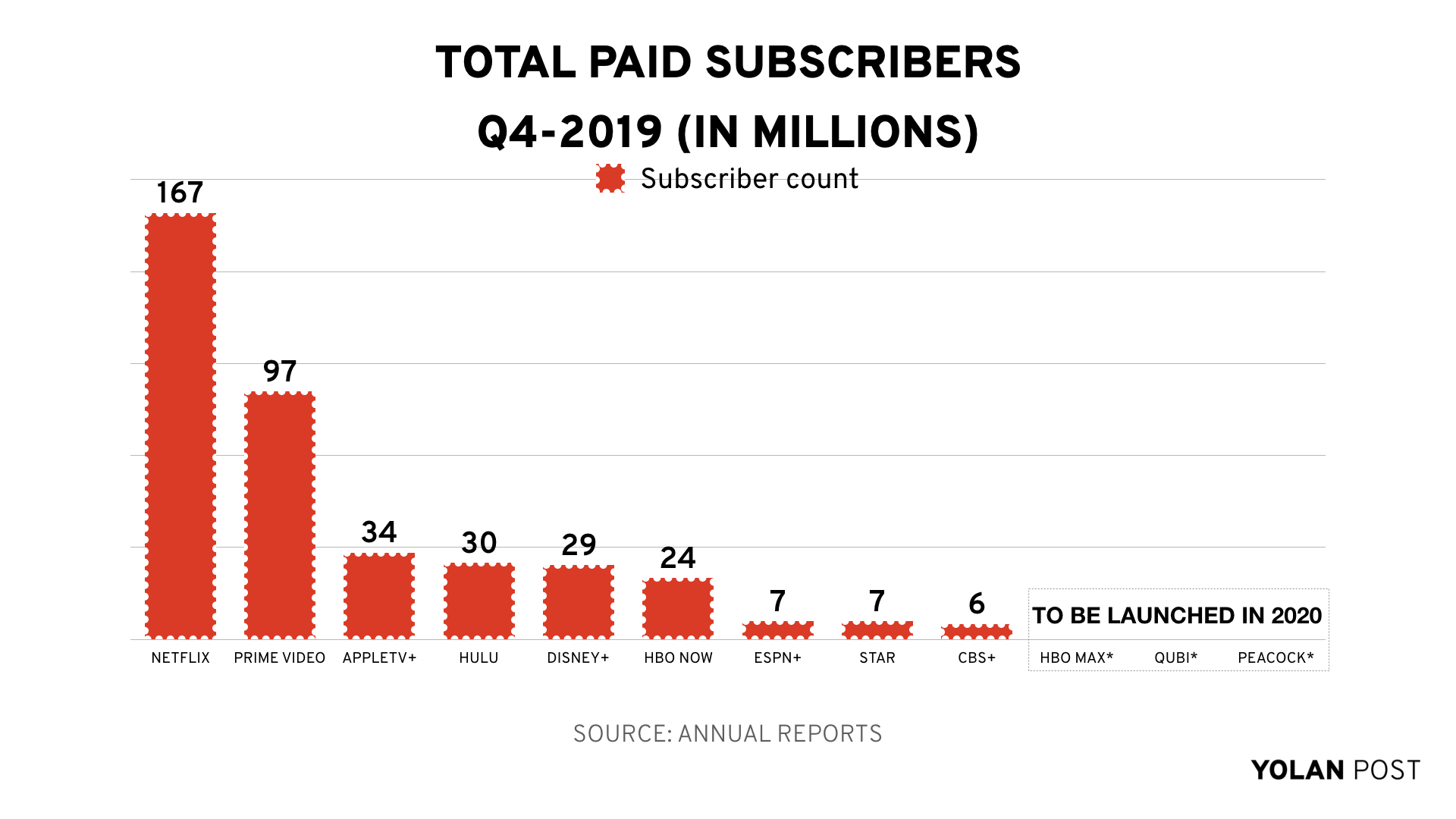 What can you learn from Apple?
So what about Apple? Apple TV+ is pre-installed on devices with the new operating systems, and with a potential of 1.4 Billion Apple devices only. Just look at how many active devices Apple has compared to Amazon Fire TV and Roku, where Disney+ now is a native app.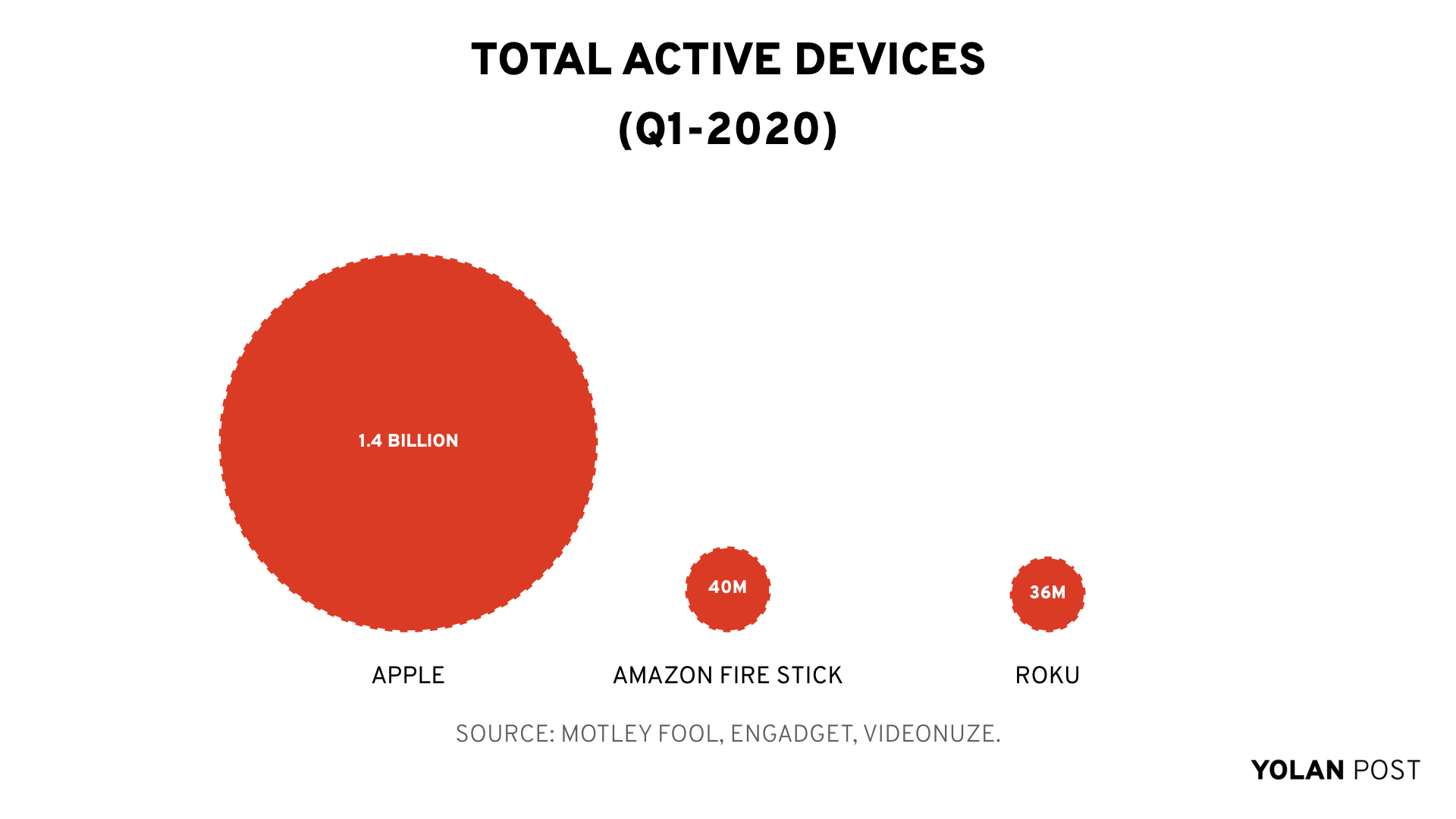 And how many clicks does it take to you to get to signed-up for and stream AppleTV+?
Three! Just three.
Because of the Apple Tax (30% levy on all purchases via the Apple store), Disney+ and Netflix try to circumvent the Apple store, to keep 100% of the spoils of their subscription fees.
This leads to more clicks, a lot more. Nine for Disney+ and 19 for Netflix
So why does that even matter?
As a brand, you're continuously looking for ways to drive customers further down into the sales funnel. From awareness to interest, all the way to the moment they purchase your product or service, and then you try to keep them coming back for recurring purchases. Or even have your customers promote your product to others.
And guess what:
"Adoption rate increases when friction decreases.
Customer satisfaction increases when the customer experience is rising."
So by decreasing friction, Apple is making it easier to consume its product, and they are actively increasing customer satisfaction. And satisfied customers are more likely to upgrade or add services and are less likely to cancel.
So ask yourself, wherein my company does friction exists?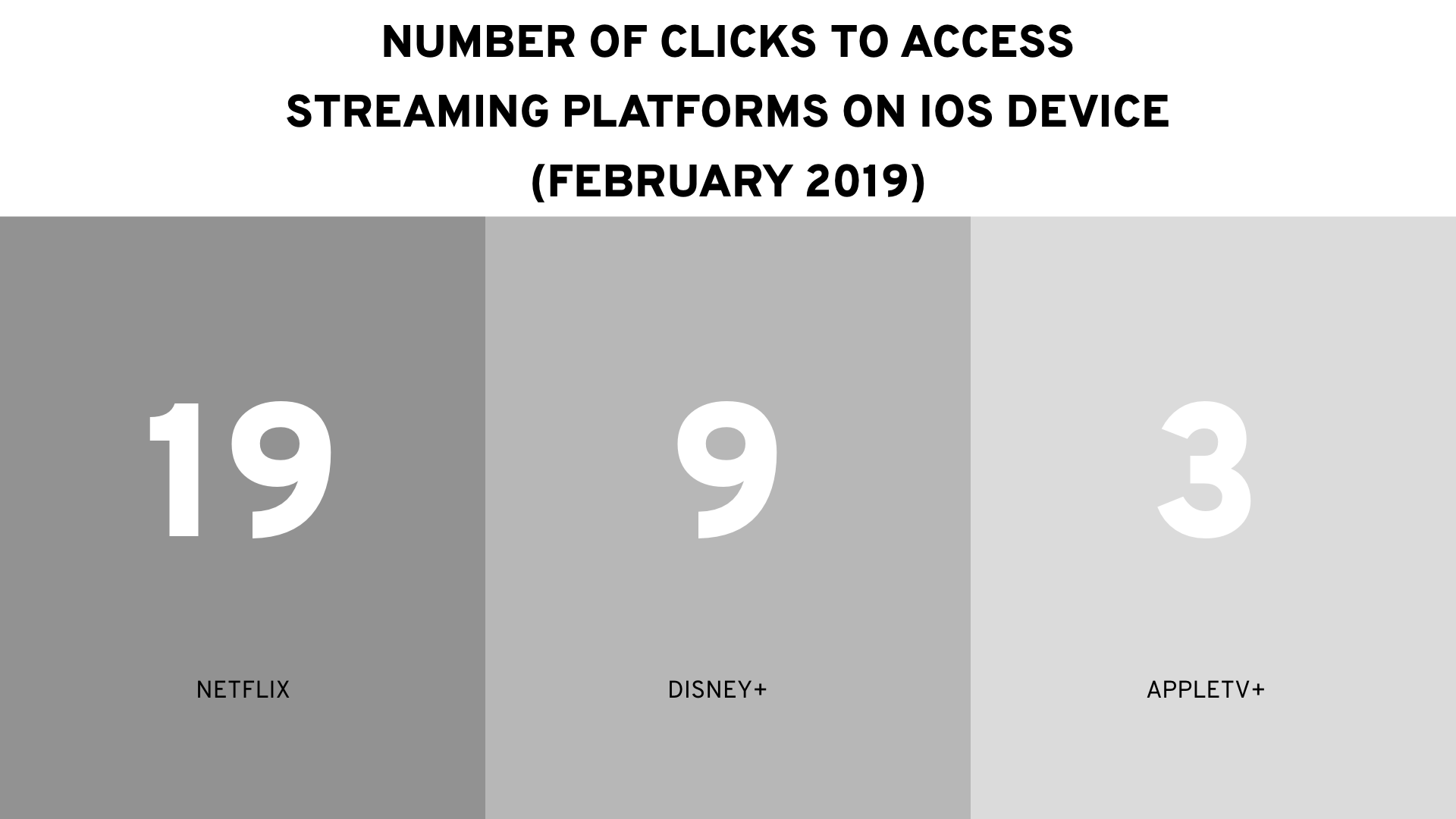 What can we learn from Amazon?
Let's look at the bigger picture here. Why would a company like Amazon – which came up as an online book store, decide to get into the content production and streaming business? From a marketing perspective, it makes a LOT of sense.
In essence, most e-commerce platforms are interchangeable; the consumer can buy the exact same sneakers on your platform as on your competitors' platform. So, if you don't have exclusive products that your offer, the customer will browse for the best price and delivery options. In other words: your customers aren't loyal.
Before we can understand the Amazon Prime Video move, we have to go back to 2004, where this all started.
Moats
Jeff Bezos (Founder of Amazon) saw the problem with loyalty early on and devised a plan: "I want to draw a moat around our best customers. We're not going to take our best customers for granted."
So from 2004 and on, Amazon started to draw moats.
Moat #1 – Fulfillment centers and automation
Amazon decided to focus on the most unsexy thing at the time: innovate and optimize fulfillment centers. For years they tried to get the delivery time down to 1-day delivery. (Which was unheard of at the time). Long after they were sure they could pull it off, they started promising 1-day delivery to customers. Amazon builds a network of fulfillment centers (FCs), which is still a significant enabler of the moat, but the automation inside them is ever more critical.
Result? 
Amazon's warehouse robots drive down costs, which provide Amazon with a price advantage compared to competitors.
The new infrastructure and speed that accompanied the optimization and automation enabled Amazon to bring down the delivery times to 1-hour  in some areas. Competitors simply can't compete, not even standard delivery services like FedEx.
Moat #2 – Amazon Prime
Next was Amazon Prime. That's Amazon's attempt to get into a monogamous relationship with their customers. Amazon wanted to make it psychologically harder to have customers shop anywhere else. That's why they designed a subscription model with several perks: super fast delivery, a yearly delivery fee that is lower than the sum of separate delivery fees, unlimited Kindle (E-books), and discounts on selected products. They also priced it just high enough to feel like you're throwing away money if you shop somewhere else, but not that high that you think it's not a value add.
Result?
78% of US households have an Amazon Prime membership in 2018
Additional revenue from Amazon Prime membership ($119 per year per household)
Typically Amazon Prime member spends $800 more per year at Amazon.
Not bad, Amazon. Not bad at all.
Moat #3 – Amazon Prime Video
So how does Amazon Prime Video ties in? Let's look at the chart below: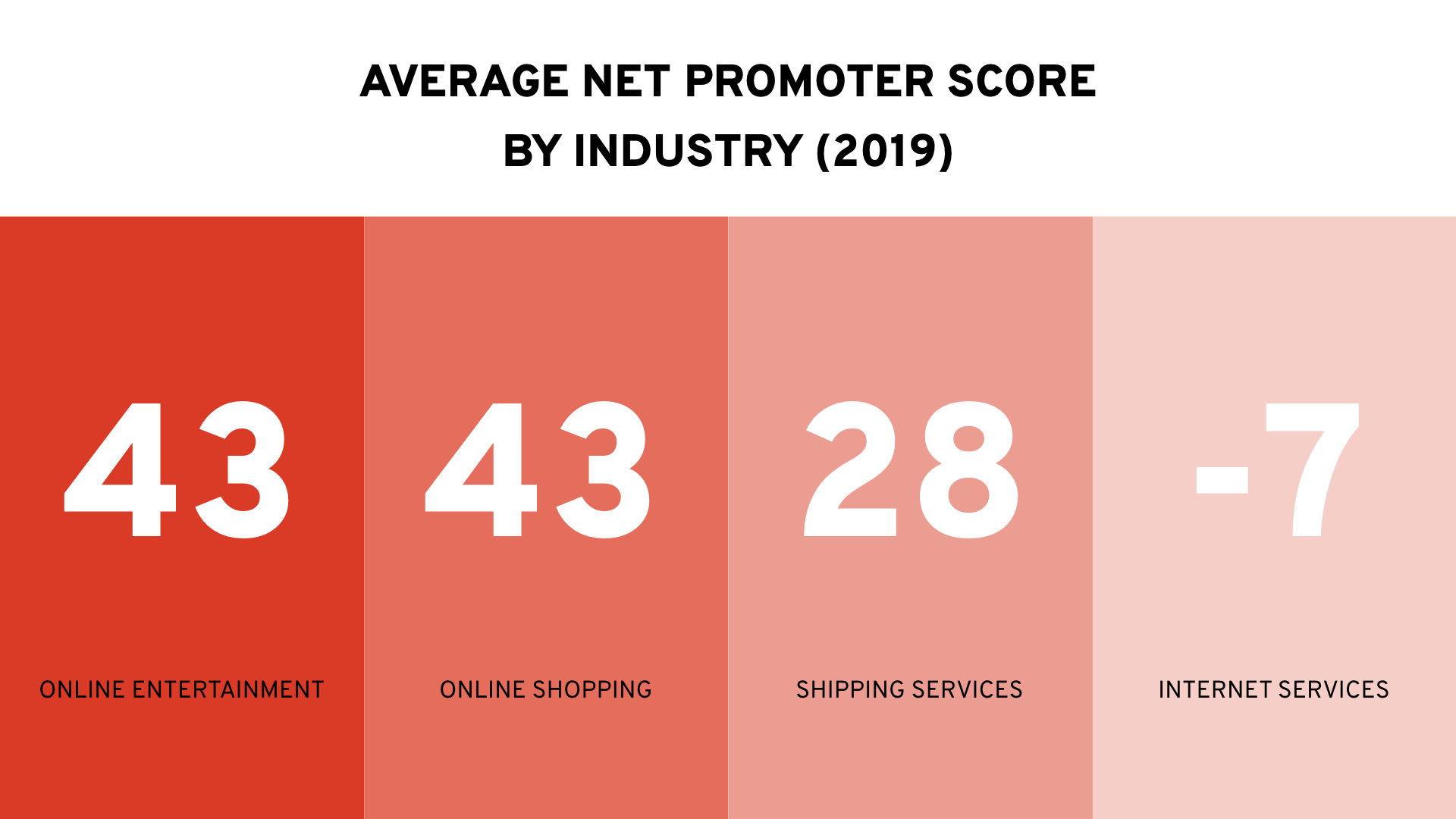 Internet services, like the original Amazon platform, typically have a negative loyalty score.
Which means people shop around for others option that offer the best price and delivery fees.
And which industry has high brand loyalty scores? That's right, entertainment.
On average, the US adult spends 120 minutes streaming Netflix and 240 minutes of watching TV in 2019.
So, how great would it be for Amazon if you could simultaneously drive front of mind position, by plastering your brand logo before a piece of highly viewed content. While increasing brand loyalty by integrating your brand with a service that has an extraordinarily high loyalty metric: video entertainment.
That's exactly what Amazon did.
Result? 
Amazon Prime retention rate grew from 80% in 2014 to 92% in 2019.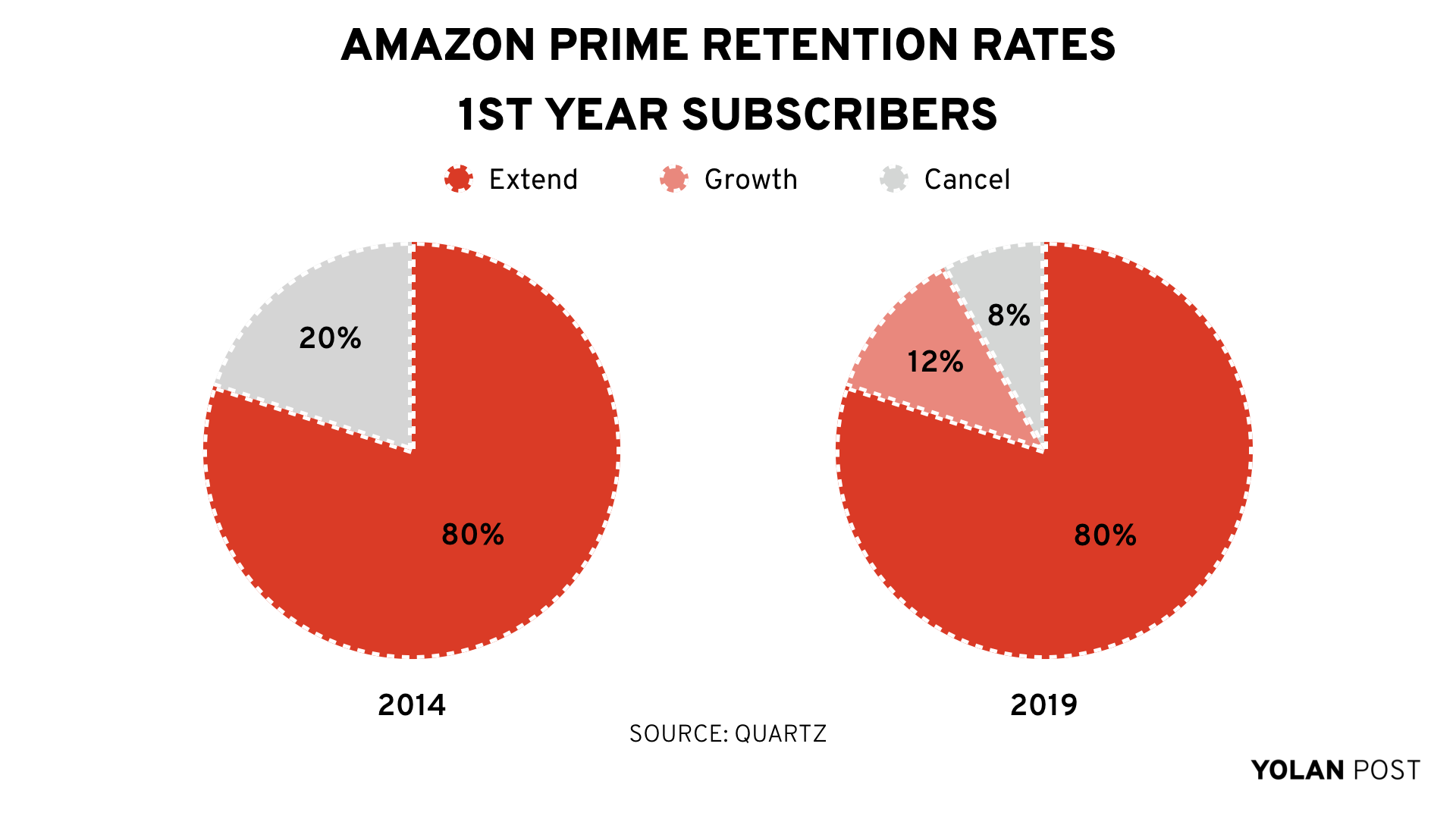 Who's winning the Streaming Wars?
In terms of international streaming services, for now, Netflix is still the core streaming service. Consumers add-on this with subscriptions for Disney+, AppleTV+, Amazon prime video and others..
But locally (The Netherlands), Videoland and Netflix are doing a hell of a job. Their tactic of using local talent to drive local relevancy and subscriptions leads to great content: BADR, Bont Girl, Like Monica and ARES.
All of these content pieces tap into an audience that already follows local talents, thus driving viewership on their platforms.
Imagine what would happen if Netflix was able to do the exact same internationally. Local streaming services wouldn't stand a chance because of the cheap capital Netflix has access to, to produce content and invest in UX design of the platform.
Netflix is also trying to play around with local relevancy in Europe by producing an international crime series: CRIMINAL.
"A cat-and-mouse drama, which focuses on the intense mental conflict between detectives and suspects. Comprising 12 stories set in four different countries, each takes place within the confines of a police interview suite."
If Netflix (or any other streaming service) can democratize the content production and publishing landscape, local content has the opportunity to go global. Not everything needs to be made in Hollywood or the US.